COACHING FOR PEOPLE WHO WANT TO START THEIR THING aka 
Fitting in is not belonging. All big things start with a small idea. If you would like to create the path that truly represents you, we have the emotional support and practical knowledge you need. We support you to build a sustainable and profitable business in a human-centered way, with a healthy dose of structure to get things done in a limited amount of time. 
What can we help you with and what makes us stand out?
receive the coaching voucher for founders 
write your business plan 
calculate your business case 
understand what makes you a great founder 
ensure your commercial viability to apply for a founder's allowance (ger. Gründungszuschuss)
get you started in terms of tax & legal
Business-oriented, yet human-centered
All our coaches hold a business degree with a minimum of 4 years of work experience within a business or assisting in founding a business. While creating your business plan, we help you to understand who you want to become as a founder and why. Additionally, we make sure that your desires and needs are being considered along the process.
We collaborate with one of the leading market players in Business Coaching (Beratungsgesellschaft Willkomm mbH). All business plans are assessed and certified with an official certificate of commercial viability at the end of the process. 
100 % of our clients finishing their business plan were approved for their founder's allowance (ger. Gründungszuschuss).
At the end of your journey with us, we provide you with our trusted tax advisor, who helps you clarify all tax-related questions and conduct your first steps in order to set up your legal entity.
Meet our business coaches
"I help impact-driven leaders & founders to gain clarity about who they are and what they want to achieve, in order to translate that into a business plan and use it in the business world."
"I help people transform their career into something irresistible by finding their true purpose! Artists, queer people, immigrants: been there, let's chat"
Having studied corporate finance master, working as a country manager for a startup, Elise knows the business side well of becoming a freelancer, but don't worry: she is fun swell singing in a choir that performs at The Fusion. 
"I support conscious minds to find their direction that is aligned with their true selves – and make it happen."Zsofia worked a lot with coaches starting their business.
Established a family business 2.0 in the engineering industry with her brother and gained consulting experience as Transformation & Culture Change Management Consultant at BrightHouse, BCG
As a former consultant, having started her own startup, Alexandra knows the pain and gain of being a freelancer and managing a business. 
Having more than 12 years of experience in marketing & communication, Audrey supports entrepreneurs build through expressing their emotions.
If you want to build your own business you can benefit from my many years of experience in brand building, (online) marketing, business consulting and project management.
"Life gives us about 4,160 weeks to spend. By age 25, 1,300 are already gone. Knowing that every week counts, I'm passionate about helping professionals in pursuing their true passions sooner than later."
10+ years as a strategist in innovation, design and creative environments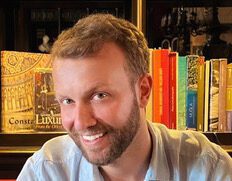 Led teams of diverse backgrounds and nationalities, hiring over 50 individuals and empowering them to exceed expectations during 15+ years of executive-level business management experience.
Do you find it difficult to choose just one? Let us help you. There is no challenge that can't be solved.

Good news! If you enter your email address below, you will never miss a thing from us